About this project
Project Background
Newly qualified young drivers are at a high-risk of death or serious injury within the first year of passing their driving test. Pre-driver education is currently delivered throughout the UK, which seeks to reduce the risks experienced by young and novice drivers. This research is being conducted in response to interest from deliverers and the wider road safety community in the UK in understanding how best to deliver interventions that contribute towards safer driving amongst younger drivers.
Project Purpose
The purpose of this research is to find out the best way to use pre-driver theatre and workshop education to support young and novice driver safety.
Project aim and approach
The aim of this study is to evaluate whether the content and format of pre-driver theatre and workshop interventions can help pre-drivers to develop effective strategies for coping with road related risk.
The project is working with several Fire and Rescue Services (FRS) in the UK over a 3.5 year period to investigate and test the effectiveness of different approaches and content for pre-driver education.
The research is comparing, typically testimonial based interventions, against research based alternatives, to determine the most effective way to proceed with delivering theatre and workshop interventions to improve young driver safety.
The study has been delivered using robust study designs, including a cluster randomised controlled trial. The research is being designed and evaluated by Elizabeth Box, Research Director, RAC Foundation & Doctoral Researcher, Cranfield University. Kent Fire and Rescue Service, Devon and Somerset Fire and Rescue Service and Surrey Fire and Rescue Service are supporting the delivery of the trial.
Project Timescales
The project started in September 2019 and is taking place across a 3.5 year period, concluding in February 2023. Piloting and trial work took place between June 2021 and March 2022.
Project partners & funding
The RAC Foundation, National Fire Chiefs Council, Kent FRS and Road Safety GB are jointly funding the research work being conducted across the 3.5 year study period.
The ground level delivery of the piloting and trial work is being supported by the Department for Transport (£100,000) and The Road Safety Trust (£28,000).
Trial registry
The trial is registered with the ISRCTN. Trial no: ISRCTN71350920 https://doi.org/10.1186/ISRCTN71350920
Latest project updates
June 2022
A write-up of the Young Driver Focus Conference 2022 is now available, which includes a summary of the presentation provided on this project.
The Pre-Driver Theatre and Workshop Education Research programme has been shortlisted for the Chartered Institute of Highways and Transportation (CIHT) Road Safety Award. Winners will be announced at the CIHT Annual Award Ceremony on 7th September 2022.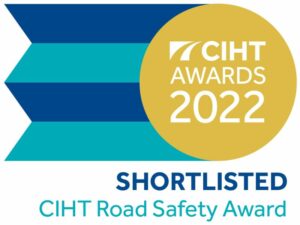 May 2022
Key findings from the PdTWER trial were presented by Elizabeth Box at the Young Driver Focus Conference, Pall Mall, London on Wed 25th May. These results show that the positively framed DriveFit intervention (online film and workshop) had a longer lasting effect on improving and maintaining road safety attitudes and perceived risk, than the more traditional negatively framed testimonial intervention, Safe Drive Stay Alive Surrey (online film), which was also rated as significantly more worrying, frightening and shocking than the DriveFit intervention. Both interventions, immediately after they were completed, had small, beneficial impacts of various risk measures when compared to the control condition.
Delegates were encouraged to adjust their pre-driver educational provisions to focus on delivering positively framed interventions which helped provide young people with strategies for managing their risk behaviours. Given that students started out with generally road safety supportive attitudes, this study has shown the value of educational approaches improving (and maintaining in the case of DriveFit) road safety supportive attitudes, but these effects are small, and depending on the intervention, can be short lived. Delegates were therefore encouraged to consider how much time, effort and resource they expend on road safety educational approaches, given that benefits are small, even for interventions designed in relation to the best behavioural science.
Further information about the results of this study will be published over the remainder of 2022.
March 2022
Data collection closes for all participating schools. Details of the newly developed DriveFit film and early face validity results shared at the National Road Safety Performances Forum and during the NFCC Road Safety Webinar.
January 2022
Final data collection with participating schools/colleges in Devon and Surrey commences.
December 2021
Intervention delivery ends.
November 2021
Intervention roll out begins across 30 participating schools/colleges in Devon and Surrey. Immediate post intervention surveys have been collected. The trial has been registered with the ISRCTN Trial no: ISRCTN71350920 https://doi.org/10.1186/ISRCTN71350920
October 2021
Participating schools/colleges in Devon are assigned to an intervention or control condition. Two Kent schools/colleges are taking part in the piloting of the newly designed intervention (film & workshop)
September 2021
School/college recruitment for the trial has closed, and participating schools/colleges have been provided a baseline survey for their students to complete. Workshop development is also underway.
August 2021
Recording of a new pre-driver film for testing as part of the PdTWER programme is taking place, at Kent FRS Head Quarters.
July 2021
Study trial recruitment is getting underway in schools/colleges supported by Surrey FRS and Devon & Somerset FRS. Message testing with the target audience is also taking place, supported by Kent FRS.
June 2021 
Elizabeth Box talks about levelling up Road Safety education in an article for the recently published Young Driver Focus 21 report:
May 2021
Elizabeth Box talks to Brake, the Road Safety Charity about young driver safety as part of their Time to Zero In podcast series.
December 2020
An editorial on the Safety of Young Drivers authored by Ian Greenwood (ITS, University of Leeds), Elizabeth Box (RAC Foundation), Dr Shaun Helman (TRL) and Dr Sarah Jones (Cardiff University) has been published by the BMJ.
November 2020
Elizabeth Box provides an outline of the three year Pre-driver Theatre & Workshop Education Research (PdTWER) Programme and interim project findings during her Keynote presentation at the Road Safety GB Festival of Road Safety 2020.
September 2020
Elizabeth Box provides oral evidence to the Transport Select Committee Inquiry on Young and Novice Drivers
For more information
To receive further updates about this project and the other work of the RAC Foundation please sign-up to our mailing list. Alternatively please get in touch via email [email protected] You can also follow us on Twitter @racfoundation.
Updated: 20 Jun 2022